NOMEN launches a new generation of folding cleats. The new "Sport Line" was designed as an evolution of the classic NOMEN cleat.
NOMEN products are part of the equipment on many large yachts. The folding cleats of the Hamburg-based manufacturer finally combine the advantages of retractable and fixed cleats in aesthetic perfection. 
Since 2002, high-quality cleats and fairleads have been manufactured at NOMEN in Hamburg. The company is a member of the German Yachts Working Group and has already received several awards for its products, most notably the Federal Product Design Award (now the German Design Award) for the NOMEN cleat. 
Now NOMEN is launching a further development of its classic cleat. The new "Sport Line" continues the tradition of simple and safe folding cleats and also brings some improvements. First and foremost, NOMEN has committed to greener production in the manufacture of the "Sport Line" and has made the process much more sustainable by reducing material input by 50 percent. At the same time, the one-handed folding mechanism of the cleat has been optimized for even easier and faster operation. The patented folding mechanism with the simple ball has been optimized and consists in the new cleat of a plastic ring with an elastic buffer inside. This solution guarantees trouble-free use and gives the cleat its unique charm.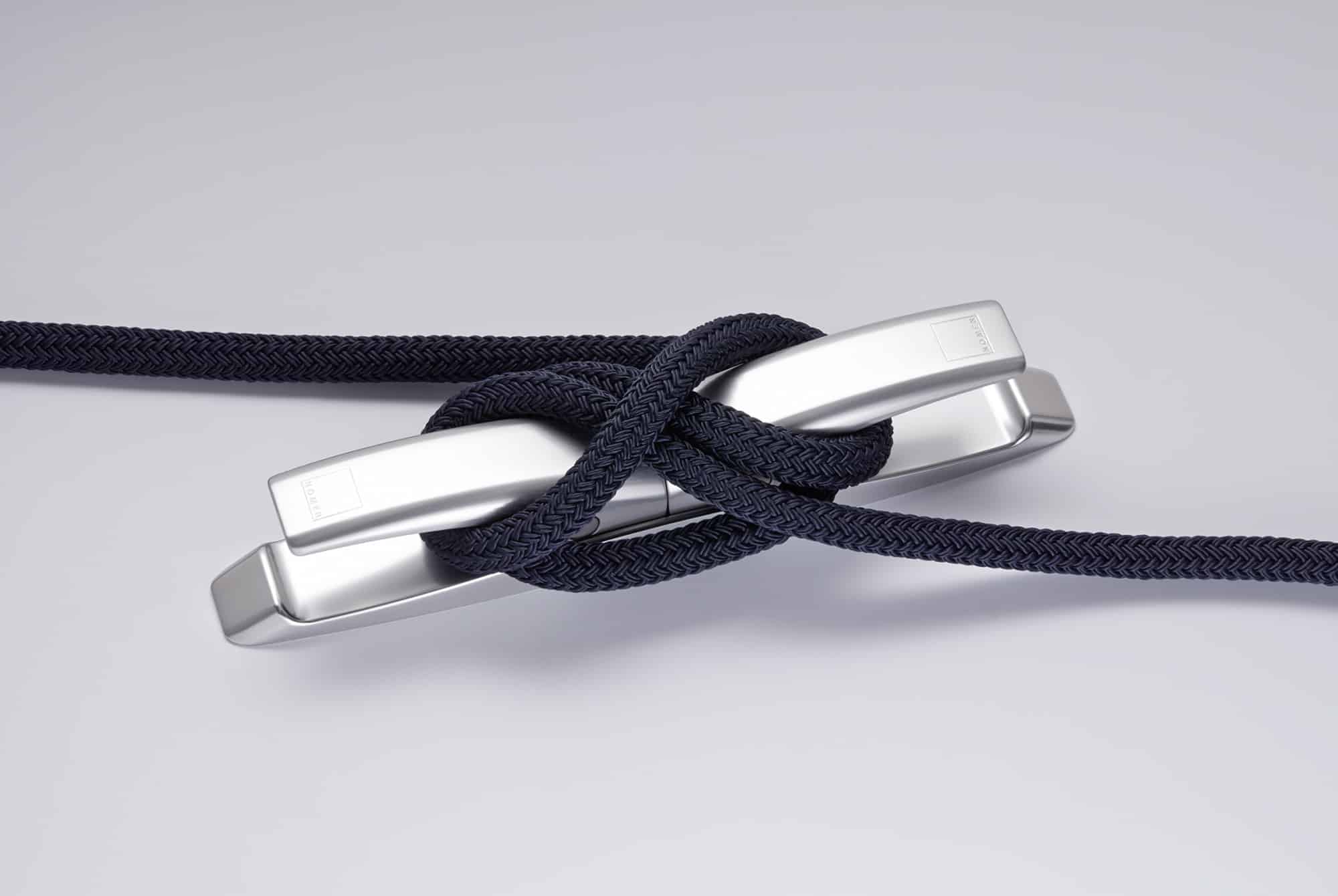 As the name of the new product line suggests, it is particularly suitable for performance-oriented yachts: Compared to the "Classic Line," it has a 30 percent reduction in weight. Shipyards should also be pleased with customizable screw positions that can be adapted to those of other brands. Thus, NOMEN can be offered as an optional upgrade without having to drill different holes. 
"We are taking a broader stance with the 'Sport Line' and targeting both production shipyards and manufacturers of tenders, chaseboats and racing yachts," said Axel Hoppenhaus, founder and CEO of NOMEN. "The new product line brings excellent holding power. Even with maximum allowable rope breakage, no failures occurred at the cleat. Reliability combined with excellent design is our specialty."
Claus-Ehlert Meyer, managing director of the German Boat and Shipbuilders Association and its German Yachts Working Group, says, "NOMEN is an excellent example of our Made in Germany label. The products have proven themselves around the world for decades. The fact that the cleats are manufactured even more sustainably and are aimed at a wider range of customers is an excellent signal."