Deutsche Yachten is again represented with a big stand at boot Düsseldorf. A total of 21 companies are exhibiting.
When boot Düsseldorf opens its doors for the 51st time from 18 to 26 January 2020, Deutsche Yachten will again be present with a large joint stand. In Hall 7a, a total of 21 of the 60 companies organised at Deutsche Yachten will be presenting themselves to the expected 250,000 visitors from almost 100 countries. The spectrum of products and services on display ranges from financing and interior fittings to the possibility of building yachts of over 100 metres in length in Germany. Claus-Ehlert Meyer, Managing Director of Deutsche Yachten, is already looking forward to the show: "In Düsseldorf we will be able to show on a large area the characteristics of yacht building in Germany – highest quality, extreme reliability and elaborate special solutions. In particular, many foreign visitors appreciate the fact that they can meet many companies from different sectors at one stand".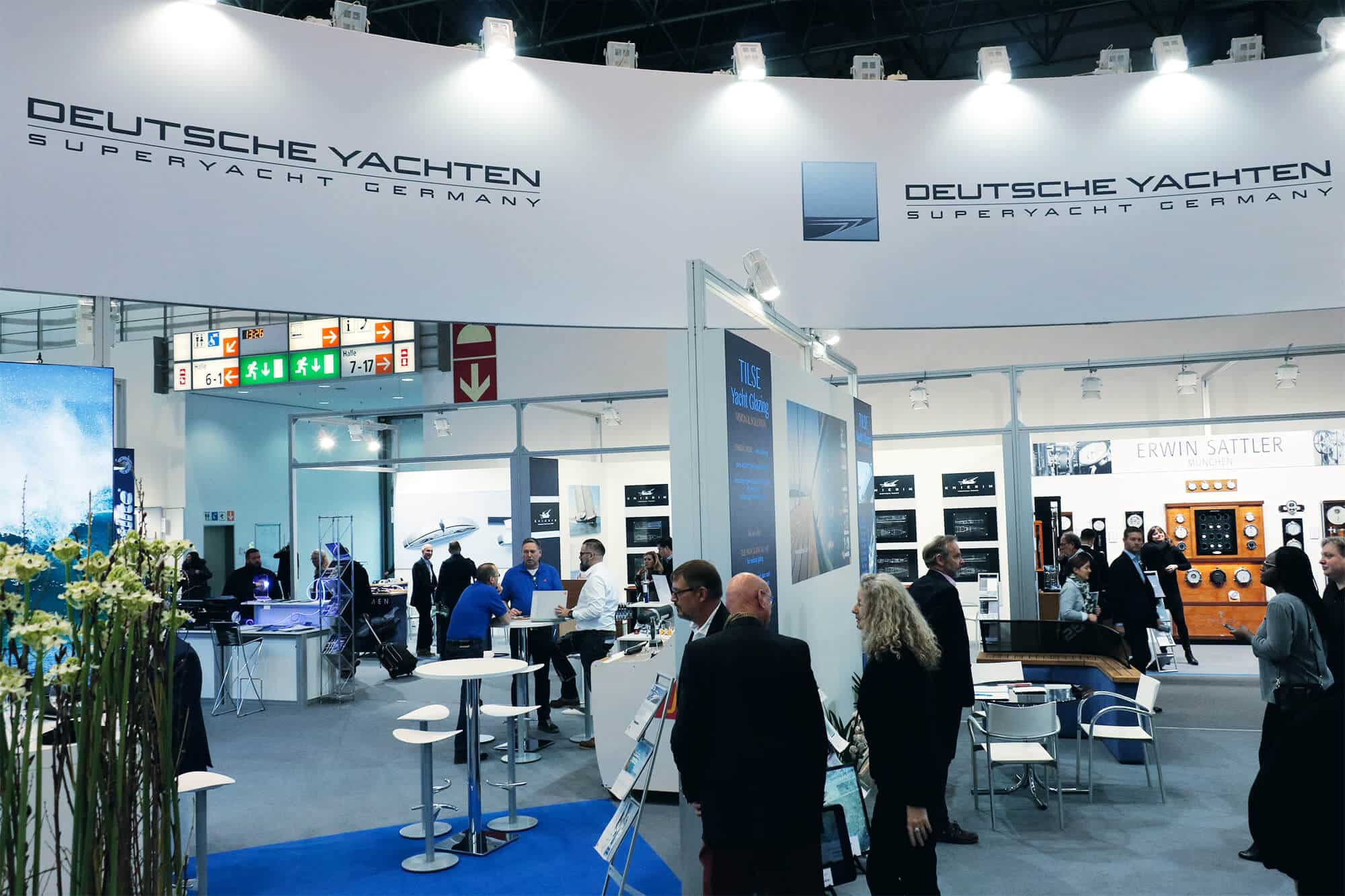 The Deutsche Yachten stand, with a total area of almost 500 square metres, also serves as an internal communication platform for initiating joint projects. One of the best current example is the 97-metre long DIVA, which the design office judel/vrolijk & Co developed for Lloyd Werft Bremerhaven. André Stegmann, Senior Sales Manager at Lloyd Werft, is enthusiastic about DIVA: "The cooperation with judel/vrolijk & co was extremely constructive and goal-oriented; you felt the many years of experience in every step".
The exhibiting members of Deutsche Yachten at boot Düsseldorf are:
-akf bank GmbH & Co. KG
-Drettmann International GmbH
-Fr. Fassmer GmbH & Co. KG
-GES Maritime S.A.,
-judel/vrolijk & co
-Knierim Yachtbau GmbH
-Lloyd Werft Bremerhaven GmbH
-Miele & Cie KG
-multiplex GmbH
-Nomen Products GmbH
-Nordwestfunk GmbH
-Oldenburger Möbelwerkstätten GmbH
-Pantaenius GmbH
-Reckmann Yacht Equipment GmbH
-Robbe & Berking Classics GmbH & Co. KG
-Stephan Semmerling
-Sika Germany GmbH
-Tilse GmbH
-Wolz Nautic GmbH & Co. KG
-Yachtlite
-Zucker & Partner GmbH
About Deutsche Yachten:
The Deutsche Yachten working group consists of hand-picked German companies which are active in the construction and outfitting of yachts over 24 metres in length. The working group is part of the German Boat and Shipbuilder's Association, in which the leading companies of the German yacht industry are organised. It is the aim of the group to make Germany even better known internationally as a business location and to promote yacht building in Germany. At present, the working group comprises over 60 companies from all over Germany. www.deutsche-yachten.de