The world-famous yacht designers at judel/vrolijk & Co can actually also design commercial ships – as demonstrated by some unusual passenger ships that have been styled by the yacht designers from Germany.
The design office of judel/vrolijk & Co is above all else known for the fast and successful racing yachts that have been created here, over decades, ranging from Admiral's Cup yachts to the America's Cup – one of the company's founders, Rolf Vrolijk, also was principal designer for Team Alinghi over several years. Then, more and more superyachts were designed here, also some motor yachts. Less known is the fact that this versatile firm also designs commercial vessels, such as passenger ships for inland lakes, as recently presented on the trade fair "SMM" (Shipping, Engines and Marine Technology) in Hamburg.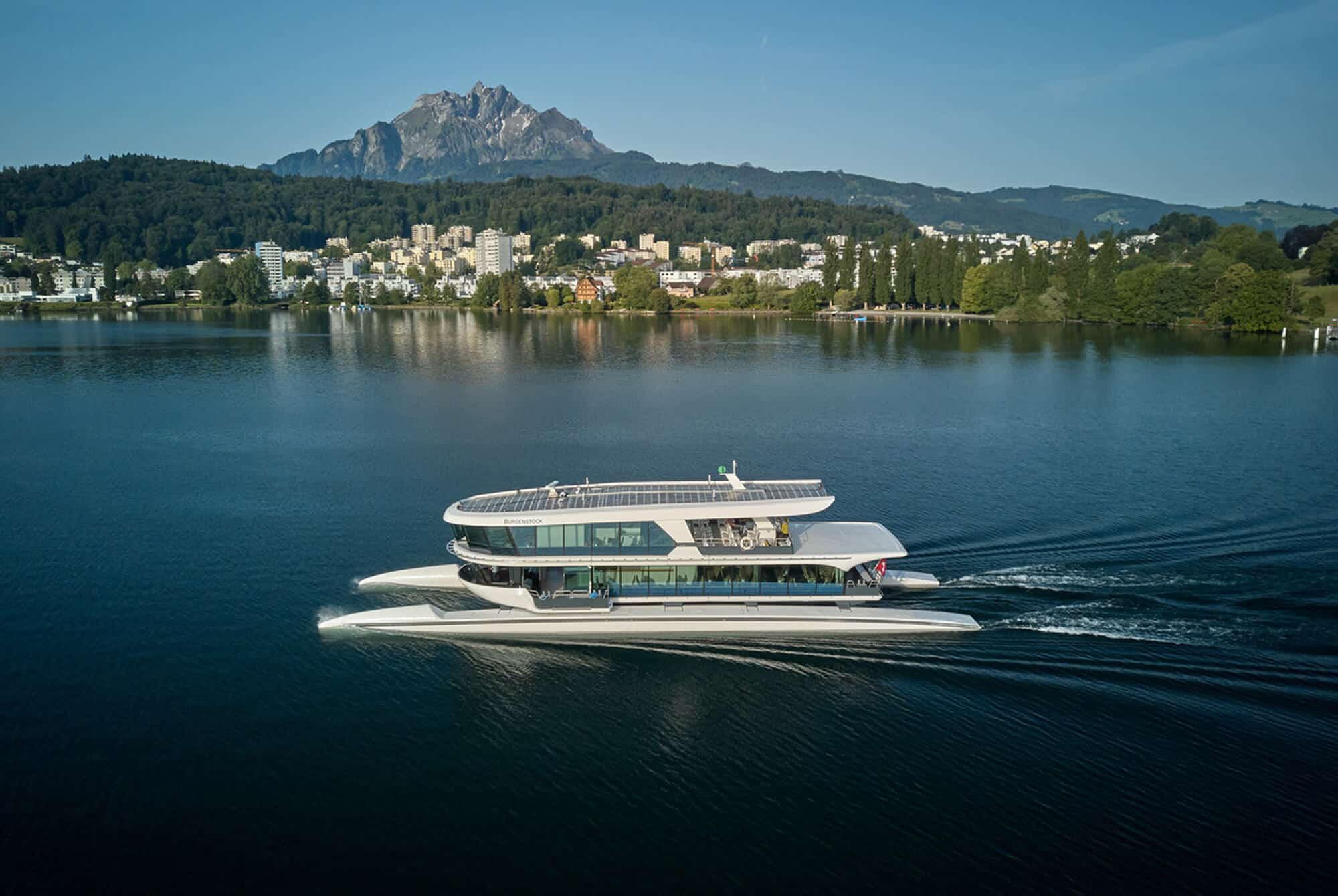 The 35-metre, fast hybrid-driven catamaran "MV Bürgenstock" went into service this year and is nothing short of spectacular. It runs a shuttle service for a large hotel and shopping complex on Lake Lucerne in Switzerland and can transport up to 300 passengers. judel/vrolijk & Co were responsible for the interior and exterior design of this passenger catamaran, whose superstructure seems to hover lightly between the slender hulls. This visual grace distracts from the vessel's high operation efficiency with regard to the reduced energy consumption of the hybrid system as well as quick and comfortable boarding by the passengers. A bright interior flooded by natural light makes for a relaxing passage.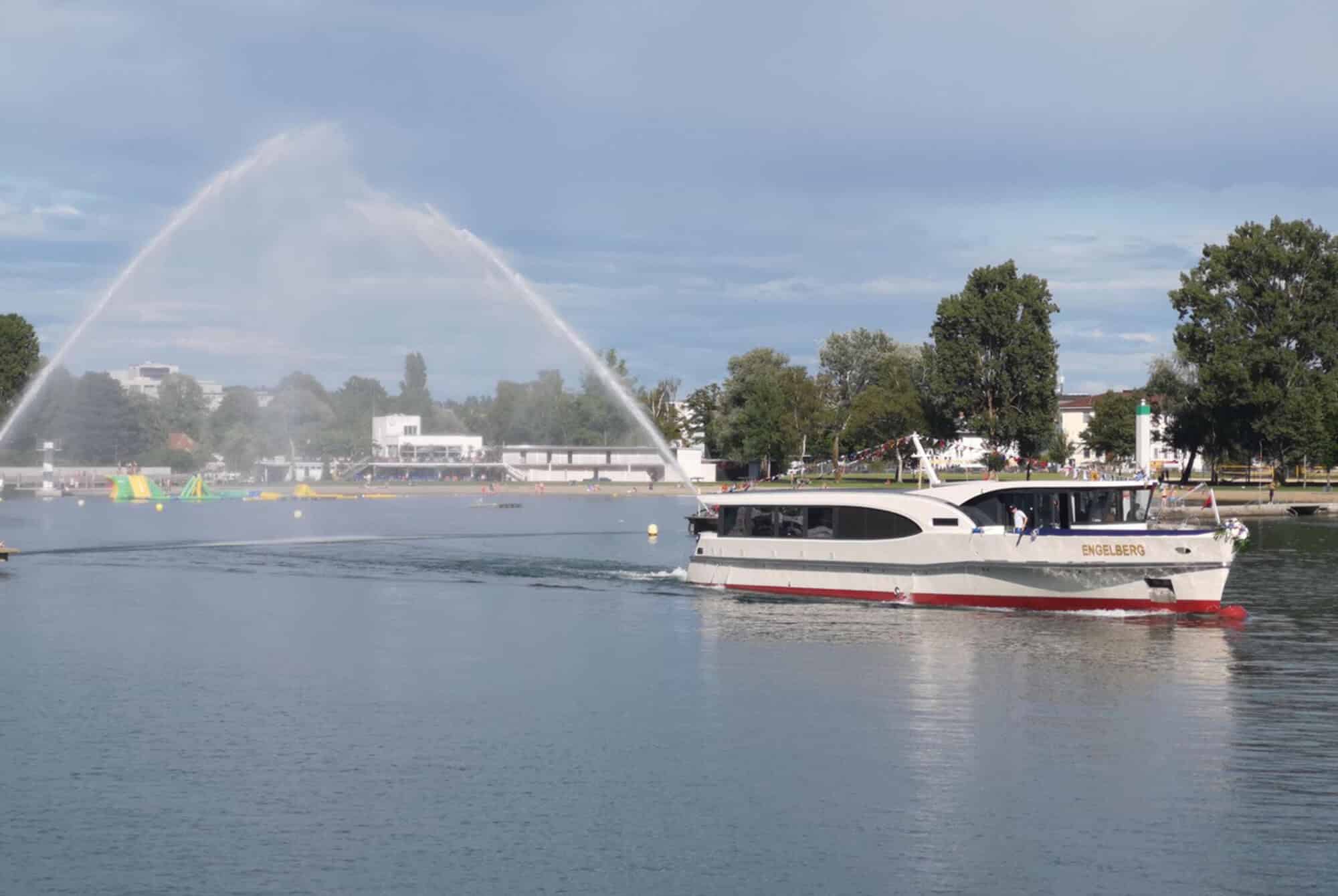 By comparison, the 30-metre, 60-person passenger vessel "MV Engelberg", also launched this year, nearly looks conventional but rather like a small mega-yacht. This ship operates in the Swiss three lakes region of Lakes Biel, Neuchatel and Murten. Not only the elegant, sweeping lines of the exterior, but also the interior was carefully conceived, with a light and airy saloon where natural light enters through the panoramic windows and also a wide overhead light band.
These are two examples of several commercial shipping projects by judel/vrolijk & Co that often also contain elements of superyacht design.
judel/vrolijk & Co Design and Engineering was founded in 1978 by Rolf Vrolijk and Fietje Judel and ranks among the world's leading design offices for yachts and ships. Torsten Conradi joined the firm in 1986 as a third partner. Today, 15 designers and shipbuilding engineers are working in the head office in Bremerhaven on the banks of the river Weser. Since 2008, Conradi also is the president of the German Boat and Shipbuilding Association DBSV. More information: www.judel-vrolijk.com
judel/vrolijk & Co is part of the working group Deutsche Yachten – Superyacht Germany. This is made by a number of select German companies that are active in the build and equipping of yachts of more than 30 metres in length. This working group is part of the German Boat and Shipbuilder's trade association DBSV (Deutscher Boots- und Schiffbauer-Verband) in which all relevant companies of the German yachting industry are organised. The aim of the group is to promote yacht-building in Germany and inform about the many services and resources that Germany has to offer this industry. www.deutsche-yachten.de
Deutsche Yachten – Superyacht Germany Press Contact: Detlef Jens, [email protected]