EPAK PRO stabilized satcom terminals offer highest tracking accuracy in combination with a robust and light-weight construction.
Automatic tracking antennas must compensate the rolling, pitching and yawing of ships with great accuracy to maintain a connection to the satellite. A fourth motion axis has been integrated into the antennas of the PRO series in order to make the tracking movement faster and more agile. To achieve this, the antenna chassis and electronic controls had to be precisely synchronized. Through gyro position sensors and readings from the satellite signal, the control unit receives information about how the position of the antenna (or the ship underneath it) has changed. Complex mathematical algorithms then calculate the required counter-movement and control the motors. This process happens within milliseconds and continues in a loop of repetitions. As a result, the antenna can move at a rate of 50° per second per axis. This is fully sufficient to maintain a stable satellite connection even in extreme sea conditions.
Speed and tracking accuracy
Speed was a key concern in development, and not just in the mobility of the antenna. Using state-of-the-art electronics made it possible to achieve significant optimization in the communication between modem, antenna and controller.  Another key factor for the performance is tracking accuracy, because as soon as the antenna is not perfectly aligned with the satellite, the signal quality drops. In terms of tracking accuracy, EPAK has always been at the forefront. In a simulated test drive on the toughest maritime motion profile, the EPAK antenna of the previous generation already performed much better than required by the satellite providers. The profile was defined by the Fraunhofer Institute and the Global VSAT Forum.
The antennas of the PRO generation can also be controlled via smartphone / tablet / PC. Extensive configurations can be made via the web interface and live sensor data from the antenna can be displayed. This simplifies troubleshooting, enables performance analysis around the clock and eventually reduces the need for maintenance.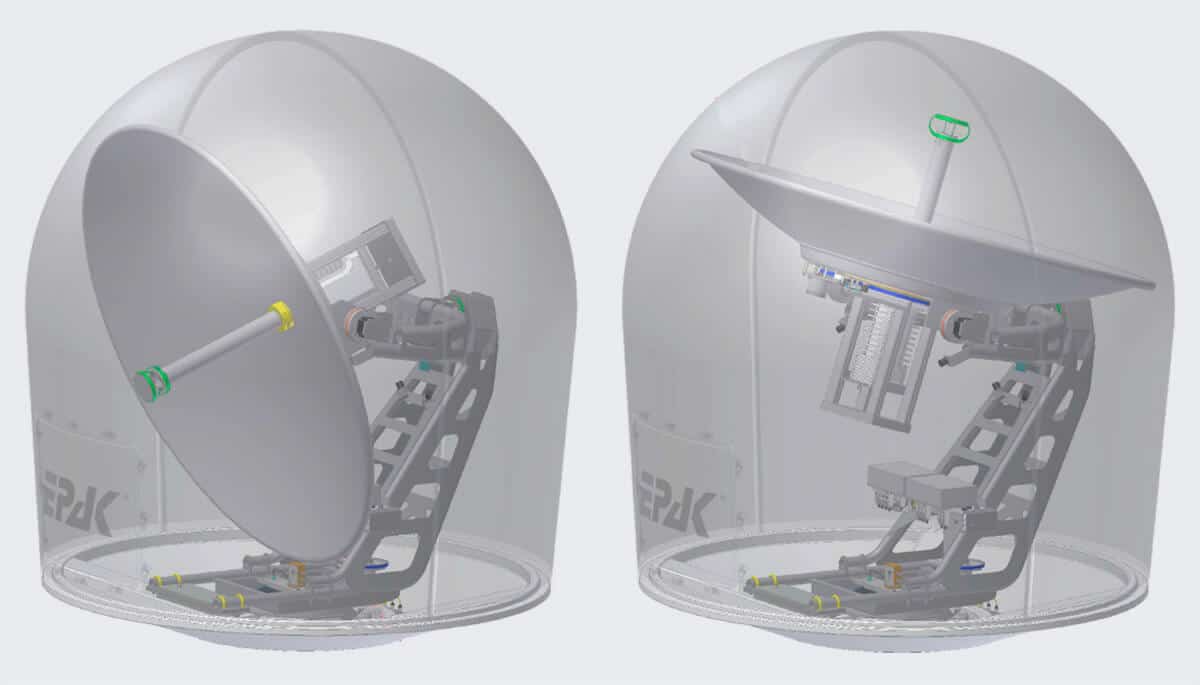 DSi13PRO at -20° and + 120°: With an elevation of 120 degrees, the antenna can easily track satellites with high elevation overhead. During the development, special attention was paid to achieve the best possible balance, resulting in a comparably light but very stable mechanical body. The PRO antennas will be available with reflector sizes of 60cm, 90cm and 130cm as VSAT or TVRO respectively.
For 18 years EPAK has been developing and manufacturing fully automatic tracking satellite antennas for mobile communication at sea. EPAK's core competencies include individually tailored and customized solutions for TV and Internet on-board. Key to success is a highly innovative product portfolio, as well as the in-house manufacturing and thus the guaranteed quality control in all essential processes – from research and the development of prototypes to the series production and customer support, all relevant competences are available in one place.
Apart from hardware, EPAK also offers maritime satellite broadband services for coverage areas worldwide. In combination with a professional 24/7 support, users get a one-stop-solution which is designed to meet the high expectations of the maritime market. Customers who already trust EPAK's solutions can be found among yacht owners, inland cruise ships, oil and gas offshore industries, offshore research platforms and international navy fleets. Epak.de
contact: Sandy Grolms
Email: [email protected]
EPAK GmbH is part of the working group Deutsche Yachten – Superyacht Germany. This is made by a number of select German companies that are active in the build and equipping of yachts of more than 30 metres in length. This working group is part of the German Boat and Shipbuilder's trade association DBSV (Deutscher Boots- und Schiffbauer-Verband) in which all relevant companies of the German yachting industry are organised. The aim of the group is to promote yacht-building in Germany and inform about the many services and resources that Germany has to offer this industry. www.deutsche-yachten.de
Deutsche Yachten – Superyacht Germany Press Contact: Detlef Jens, [email protected]